Agenda: Tuesday, October 12, 2021
Tuesday, October 12, 2021
ALL TIMES ARE IN EASTERN TIME ZONE
---
8:00 a.m. – 8:55 a.m. Eastern
Session 1: Welcome
NAHR and NAHR Foundation Overview
Introduction of Participants and Faculty
Opening Remarks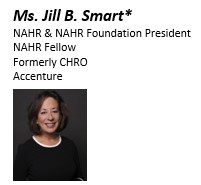 ---
9:00 – 9:55 a.m. Eastern
Session 2: Role of the CHRO
CHROs belong in the C-suite not only for their role in managing companies' critical assets - its talent - but also because they make the C-suite team more effective. They help focus the team as a cohesive unit and by doing so, support the organization's mission. As a result, CHROs play many roles, and prioritizing those roles is critical.

---
10:00 - 10:15 a.m. Eastern
Break
---
10:15 - 11:10 a.m. Eastern
Session 3: Translating the Business Strategy to a Human Capital and HR Strategy
A business strategy that aims to win in the marketplace can only be executed through an organization and its talent. Business plans and strategies are always dependent on human capital matters. If there was any doubt, as of late Investors and Boards are highlighting the centrality of human capital management (HCM) for business success and in generating sustained shareholder value. In this interactive session we will examine the essential components of a business strategy, a framework that links the human capital imperatives dictated by the business strategy, and the practical experiences of both facilitators and participants in making both work.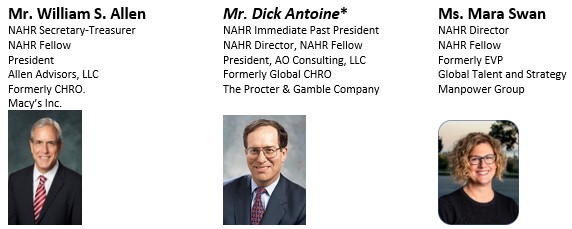 ---
11:15 a.m. – 12:25 p.m. Eastern
Session 4: Executive Compensation and Governance
One of the key roles of the CHRO is working with the Board and the Compensation Committee on executive compensation for the CEO and senior leadership team. A panel of experienced CHROs and compensation experts will offer their perspectives on working with the Compensation Committee on a broad spectrum of topics, the potential tension of serving the Committee and managing the expectations of senior management, and addressing investor and activist expectations of incorporating ESG/DEI metrics into executive
incentives.

---
12:30 p.m. – 1:25 p.m. Eastern
Lunch Breakout Rooms for all Participants and Faculty
---
1:30 p.m. – 2:25 p.m. Eastern
Session 5: Diversity, Inclusion and Equity in the Workplace
Ensuring an organization embraces and benefits from having a diverse workforce and an equitable and inclusive culture continues to be a challenge for business leaders and HR leaders in particular. This session will include a discussion rooted in culture and the role
of the CEO in creating a culture of diversity and inclusion and how it is HR's responsibility to enable the CEO to lead as a leader of a diverse and inclusive culture versus HR continuously implementing new programs that do not have the intended outcomes on a
sustainable basis.

---
2:30 p.m. - 3:25 p.m. Eastern
Session 6: Engaging with the Board on Succession Planning and Talent
Amongst the biggest concerns for HR management is succession planning and the management of the talent resources. Ensuring that succession planning addresses challenges with diversity is also critical. This session will discuss approaches for planning well in advance for key successions, particularly for the CEO, and share examples of both successful and not so successful transitions.

---
3:30 p.m. - 3:45 p.m. Eastern
Break
---
3:45 p.m. – 4:40 p.m. Eastern
Session 7: Preparing for Unforeseen, Hyper-Disruptive Events
The past two years have made it clear that we need to expect the unexpected, including pandemics, cyber security breaches, natural disasters, and political and civil unrest. This session will discuss the lessons learned during these challenging and unprecedented times and what we can do to improve our preparedness for such events and events that we cannot yet even imagine.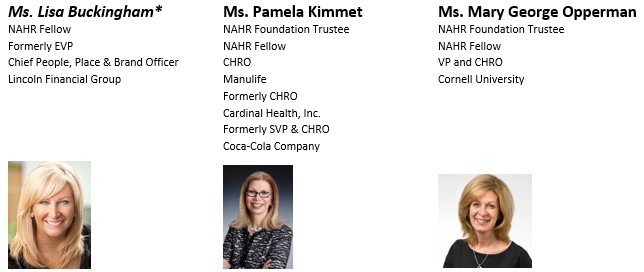 ---
4:45 p.m. – 5:40 p.m. Eastern
Session 8: The Modern HR Mindset: Creating a Culture That Leaves Your People and Organization Net Better Off
Our afternoon session will be an interactive discussion that explores the responsibility of organization leaders to leave one of their most important stakeholders - their people - better off as a result of working for them. Based on cutting edge research by Accenture and Marriott, we will explore the sweet spot that organizations can invest in to power a culture that unlocks both human potential and organizational growth, along with the role of Modern HR to make that vision a reality. The research is based on a comprehensive survey of 3,200 C-Suite executives, half of which were HR decision makers and over 15,600 workers spanning 15 industries and 10 countries. The session will incorporate design thinking and group discussions to give attendees key takeaways for their CEOs, Boards and HR teams.

---
5:45 p.m. – 7:00 p.m. - Eastern
Reception Breakout Rooms for all Participants and Faculty
---
Session Concludes for the Day
---
*Indicates Panel Leader